Decoding the mystery of epilepsy
More than 20 years ago the medical profession had made small inroads into cracking the mystery of what causes epilepsy. Doctors were able to identify that a variety of physical injuries to a person's brain, such as a serious head injury from a car accident or a fall, a stroke or other types of physical injury caused about a quarter of all diagnosed cases of epilepsy.
But in most cases the cause remained undetected. Recent advances in gene technology have since confirmed what the medical profession had long suspected – that genetics held the key to unlocking the mystery.
In 1995 Berkovic's team made history with a remarkable breakthrough in genetic research. His group, together with molecular genetic collaborators in Adelaide and Germany, discovered the first faulty gene that causes epilepsy.
Then in 2003 the Human Genome Project, an international consortium of hundreds of scientists, provided a giant leap forward for science worldwide by publishing the completed sequence of the human body's entire genetic code – about 20,000 genes.
It allowed genetic researchers to move from investigating a single gene to investigating large-scale genome sequences. "We've known that there's been a hereditary component to epilepsy since time immemorial. Hippocrates thought that there was a genetic component," Berkovic says. "Over the years we've known that there's been a higher rate of family history in most people with epilepsy, but what's becoming clear is genetics is even more important than we had realised from the straight clinical genetics."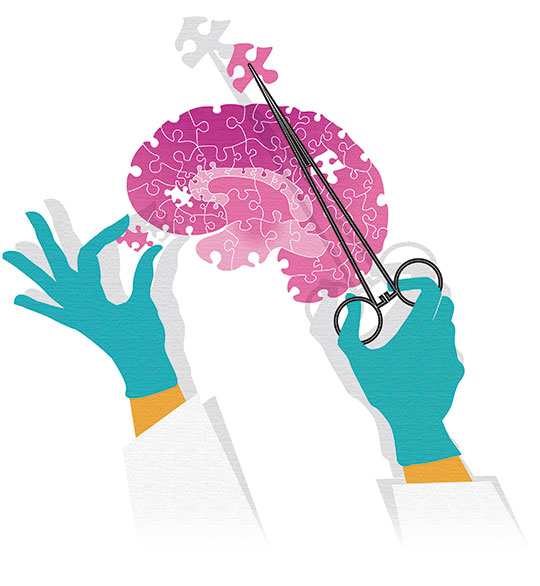 Since 1995, Berkovic's team has discovered that epilepsy is caused by many genes rather than a single gene and should therefore be thought of as a series of epilepsies rather than as a single condition.
"New genes are discovered almost every week with the new technology," he says. "The concept now emerging is that it's not so much an individual gene that one might target but it's a pathway that a bunch of genes might fit into. If we can target that pathway it might lead to new avenues for treatment. We're also finding that there are drugs available that are being tested in humans for other disorders that might be effective acting on that pathway as well. We're using genetics to improve therapy."
By identifying the causes of epilepsies the team has also helped lift the pall of guilt that many parents mistakenly feel when their child is first diagnosed with the disease.
Berkovic says parents often wrongly assume that vaccinations or a trivial event, such as their child falling over, may have caused their child's seizures.
"When one can tell families there's nothing they could have done to prevent the condition it's an enormous relief for them. It means they can get focused – that little Johnny has a change in this particular gene. If you can tell families why, it really empowers them."
Berkovic works closely with paediatric neurologist Professor Ingrid Scheffer AO (PhD 1998), who is based at the Austin Hospital and the Royal Children's Hospital.
The team has identified epilepsy genetic changes that are hereditary and others that have nothing to do with a person's family history. This year they found a gene believed to be a major cause for the most common form of epilepsy, affecting 60 per cent of people with the brain disorder.
Scheffer was recently honoured with the prestigious GSK Australia Award for Research Excellence. She and fellow team members have identified more than half of the 30 known epilepsy genes.
In an interview with ABC television's 7.30 soon after she won the award, Scheffer described how the team's work is helping pave the way for more effective treatments of epilepsy and more accurate assessments about the hereditary risks linked to the condition.
"I can imagine that in the future, a baby will be born, some cord blood will be taken and we'll go and do their whole genetic fingerprint," Scheffer said.
"So we might be able to identify genetic changes that will be a problem earlier and maybe then if we can implement treatments or particularly genetic therapies – they're not really there yet, but earlier, then maybe we can prevent the seizures… and make a huge, long-term difference."
Scheffer and other members of Melbourne Epilepsy are also involved in global research projects, a sign of the team's international reputation for identifying specific types of epilepsy. She and Berkovic and Professor Terence O'Brien (MB BS 1988, MD 2000), of the Royal Melbourne Hospital, are part of the Epi4K Consortium, a global project that aims to find as many genetic explanations for epilepsies as possible by sequencing about 4000 genomes from patients and their families.
The work of Professor Scheffer and Professor Berkovic builds on epilepsy research across the University, where a host of leading researchers, including Professor O'Brien and Professor Mark Cook (MB BS 1983, MD 2000), are enabling insights into how epilepsy can be managed to improve quality of life.
– Caroline Milburn
Illustration by Frank Maiorana